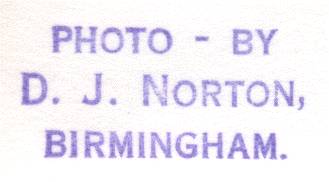 Part Time Working Means More Updates!

If you're a regular visitor to this site then you'll no doubt have been a little disappointed by the amount of updates so far this year. Well, you're not the only one! I seem to have so many plans and so little time to see them to fruition that I've been finding it very frustrating. So frustrating that I approached my employer and asked about going part time so I could dedicate more time to this website and to getting D J Norton recognised as an important photographer of his time. It took a while to fall in to place but today (Monday 2 June) is the first Monday that I no longer have to go to work! I've reduced my working week to Tuesday to Friday. I hope this willingness to give up 20% of my salary indicates my dedication to the task ahead.
It's not all good news, of course. One of the reasons for a lack of site updates has been my involvement in a project based upon my father's railway photo's from around Birmingham. I can't say too much at the moment but I can assure you I will let you know the details as soon as I can. Suffice to say that I have to put aside many of the Mondays in June and July for this task. But I've now got Saturday back to work on the site so look out for more updates soon.
Regards
Mark Norton
2 June 2008

---