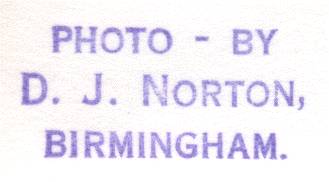 Demolition of the Birmingham School of Speech and Drama

In the middle of January 2006 I noticed some worrying activity associated with one of the Victorian buildings in Lower Severn Street that had survived the introduction of the Inner Ring Road. I quickly took a couple of photo's, fearing the worst.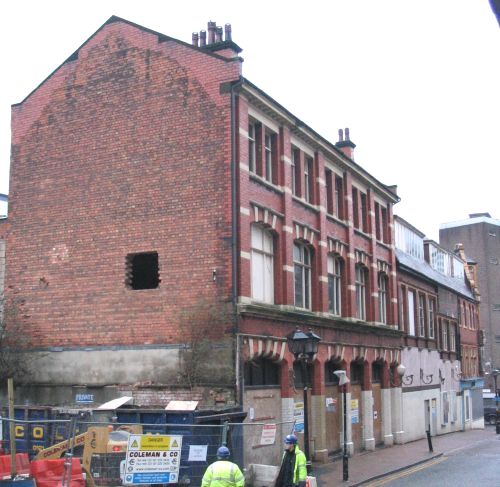 At the end of January the demolition crews moved in - not on the building that concerned me but on another building immediately behind it. This structure had always interested me. Large vents on the roof suggested a factory but in its partially demolished state I could see that it had clearly not been a factory.
I managed to take a few pictures before the demolition had progressed too far. But what had it been? A bit of Googling helped me find details of the
planning application
behind the work. On the map it was clear what it had been - The Birmingham School of Speech and Drama! Further research suggests that the school (now known as the
Birmingham School of Acting
) was founded in 1936. The building was certainly older than that as it is identified on a 1905 map as a gymnasium.
I was originally very optimistic for the future of the Victorian building. There were signs saying, "Permit required for the demolition of this elevation". The planning application mentioned, "the retention of the facade to 15 Lower Severn Street". It all looked good - until Friday 25 February 2006, when I found the building almost completely demolished. Incensed, I entered the site waving the planning application!
An e-mail exchange with the planning department case officer revealed that a later application withdrew the developers offer to retain the facade. Although the planners were against it, the building was not in a conservation area and, in their words, "was not of listable quality". The cynic in me feels that the developers always intended to demolish this building as it makes access to the site much easier. At least I took some pictures before it was gone forever…







Now you see it...




...and now you don't



Thankfully, other historic buildings in John Bright Street are being retained as part of this plan, the 2nd phase of the nearby
Orion project
. The developers have also, imaginatively, decided to re-use the old entrance to the B'ham School of Speech and Drama for the main concierge access.
---