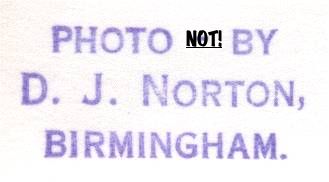 Harborne
All old pictures on this page from
The Geoff Thompson Archive
Note that you can click on the old pictures to see a modern view
47 Metchley Lane - 15/2/52

Located to the south of the High Street on Metchley Lane was this petrol station. Sadly, and perhaps surprisingly for a place like Harborne that has maintained many of its historical character properties, everything in this picture has been demolished and replaced by modern housing. The site is opposite modern day Malt Close.

Park Hill Road - 29/11/50

This picture caught my attention as I often drive down Park Hill Road and recognised the building to the left straight away! Taken from the junction with Rose Road, the elevated bank seen to the left carried the Harborne branch railway line. It had been closed to passengers since 1934 but freight traffic continued until 1963, no doubt serving the nearby Chad Valley toy factory. The trackbed has since been converted to provide the Harborne Walkway.

When visiting the site for my modern view it was nice to see that one of the three shops had not been converted to a house. Griggs Stores provides a useful service to local residents.

31 Northfield Road - 29/11/61

Houses and shops on Northfield Road, west of Harborne village centre and close to the two golf courses (one a private club and the other council run).

Edwards was a general store like many found in suburban streets. Today the shop houses an accountants.

Duke of York - 18/11/58

The Duke of York stood at the junction of High Street and Lordswood Road for many years but was demolished early in the noughties to make way for apartments.

27 Lordswood Road - 6/5/52

This row of shops opposite Harborne Pool and Fitness Centre survives to this day. In 1952 they were (from left to right) Mary Little (ladies clothes), Hariss's (cleaners and dyers), C. H. Baughan (newsagent and tobacconists), Timothy Whites and Taylors (chemists) and the M.E.B. Electricity Sevice Centre.

A bill board on the far left advertises Laurel and Hardy playing the Hippodrome. Apparently the pair toured Europe in both 1952 and 1953.

169 Lordswood Road - 25/5/51

This lovely old shop and cottage was opposite the junction of Lordswood Road and Elm Tree Road. It looks like something from a village scene, not the kind of thing you would expect to see in greater Birmingham!

The bill board in front of the hedge advertisers 'Samson and Delilah' starring Hedy Lamarr, Victor Mature and George Sanders. This was playing at the nearby Warley Odeon.

This is now the site of Lordswood Square, a well established estate of flats. Could the privet hedge seen in my modern view be a tangible link with the past...?

Hampton Court Road - 8/3/63

I originally thought that this picture showed one shop on the corner of Balden Road and Hampton Court Road but it's actually two. To the left, in Balden Road, is H. F. Deakin's well stocked shop while F. Turner's hardware shop in Hampton Court Road seems a little more upmarket as it is advertising 'household requisites'!

The building to the far left is the parish church of St. Faith and St. Laurence.

After loading my modern view onto the computer I was amazed and pleased to see that Bakers (rather perversely a butchers shop!) is still in business today.

Hampton Court Road from Queen's Park Road - 4/3/59

This picture confused me as it was labelled 'Queen's Park Road' but it is clearly a view down Hampton Court Road taken from Queen's Park Road. The shops seen in the picture directly above would have been just off the left of this view.

The 'Regent' sign poking above the advertising hoardings suggest that there was a petrol station on the corner of Hampton Court Road and Court Oak Road just as there is today. In fact, the funny little van to the left of centre is labelled 'Court Oak Garage' and I suspect that is the business that is out of view.

Marsh's Sausage, claiming to be 'The World's Best' came from Brierly Hill and were made by Marsh & Baxter.

250 Court Oak Road - 9/4/58

This group of shops in Court Oak Road, close to the Court Oak pub, survive today. Back in 1958 they included Pat Rogers General Drapery, now long gone.

The group of lads sat on the shop windowsill look like troublemakers to me. No wonder the elderly couple are giving them dirty looks!

I love the advert on the side of the shop. It says, "Beer - the best long drink in the world!".

---