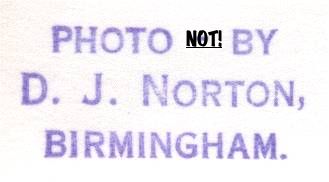 Kings Norton
All old pictures on this page from
The Geoff Thompson Archive

Note that you can click on the old pictures to see a modern view

23 Camp Lane - 19/12/57

This is a nice shot of a traditional, local shop on the corner of Camp Lane and Station Road. Sad to see some of the old tin plate signs decaying in the front garden.

Stephen, who lived nearby as a child, sent this information about the shop:
"It was owned and run for many years by a mother and son. The mothers name was Maggie and as such the shop was known as Maggies. My father remembers going in there and I also remember going into the shop when I was small. I can just about remember Maggie sitting on a chair on the customer side of the counter (she was an old lady by then), this would have been around 1963/65."

When I visited this site in November 2009 I was surprised to find that the silver birch tree visible to the left of the picture had apparently been relocated to a nearby garden!

5 The Green - 11/10/67

Taken in the mid-late 1960's, the H. Bakewell hardware store is looking a little dated compared to it's modern neighbours. Today the old garage between Bakewell's and the newsagent has been replaced by an extension more in keeping with the rest of the shop.

Bulls Head - 11/9/61

The Bulls Head pub, built in 1902, replaced an older pub of the same name that was located here.

I'd never noticed the moulded bulls heads up in the gables before looking at this picture!

The Chas Mann cycle store is just visible to the left of the pub.

Redditch Road - 24/6/58

Close to The Green on Redditch Road was the Old Mews Garage. Despite the appearance of the Olde English sign, it had only been there for 4 years when this picture was taken, not 204 years!

I had assumed that the cottages seen to the left still stood but in fact they have gone making way for Rik Fit Tyres!

Cartland Arms - 6/9/61

A nice picture of the art deco style Cartland Arms on the corner of Parsons Hill and Broad Meadow Lane. The building is now a McDonalds.

The Cartland family lived not far from here and there is some infomation about them in this history of Kings Heath park.

---