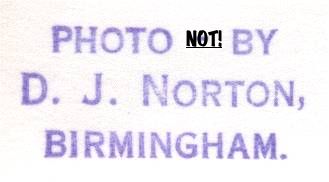 Moseley
All old pictures on this page from
The Geoff Thompson Archive
Note that you can click on the old pictures to see a modern view (thanks to Maria)
45 Alcester Road - 3/9/59
This picture originally had me foxed as I had assumed that the road disappearing into the distance was Alcester Road. It's not, it's Park Hill and the picture was taken looking across Alcester Road. With the in mind, it's clear that the attractive and unusual spire belongs to St Annes's church.

I'm afraid the Victorian splendour of Ashfield Motors has long since been lost and this is now the site of a petrol station that sits on the corner of Park Hill. Next door, on the corner of Park Road, is the Jug of Ale pub, a super live music venue that is going to be demolished!

My thanks to Peter for documenting his memories of Ashfield Motors:
"When I was towards the top of the junior school I became friendly with the staff at Ashfield Motors and they used to allow me to go and help polishing the cars that were on sale (both new and second-hand.) They had a Vauxhall dealership and the new cars often arrived coated with a wax that had to be removed by using a bucket of paraffin. On Saturday afternoons I would often help with serving the petrol - one customer I recall very well was Mr. Jennings of Kings Heath, the proprietor of 'Jennings Continental Foods' who had a beautiful Bentley saloon.

When I knew it Ashfield Motors was run by the Weatherhogg family, who also owned Allenways Coaches. David Weatherhogg (the manager at Ashfield Motors) had his office towards the back of the showroom area visible on the right of the picture.

Interesting to see the Jaguar parked on the road. Ashfield Motors had a stock of beautiful second-hand cars such as this but, in the 'progressive' 1960's they were difficult to sell as very few people were interested then.

Happy days! "

101 Alcester Road - 7/12/62

The subject of this picture, number 101, is John Forrest Sweets and Cigarettes on the left. That might no longer be in business but Midland Bank (now HSBC) is still at 97, sadly without the ornate guttering below the second floor windows seen above. WH Smith, whose canopy is visible to the left of the telephone box, has now moved up the road to 113.

220 Alcester Road - 31/10/57

Some smaller businesses on the road out of Moseley towards Kings Heath. From left to right we have Hewlett & Sumner, an unidentified tobacconists (number 220) and V.C.Gotrel who repaired watches, clocks and jewellery.

Maria's modern view shows that the left hand shop has been demolished and replaced by a very oddly designed extension...

Maria also provided some insight into the mystery tobacconists shop at 220:
"My dad's grandparents used to own a tobacconist shop at 220 Alcester Road, Moseley. In 1957 my dad lived with his parents (Elsie and Gerald Ball) in Leighton Road in Moseley, literally 2 minutes walk from the shop and my granddad worked there. My great-grandparents (Eileen Elsie and Tom Ball) owned this shop. I presume they owned the shop in 1957, although I can't say for definite. However, my mom started courting my dad in 1957 and she went to this shop in approx 1959 and they definitely owned it then."

---