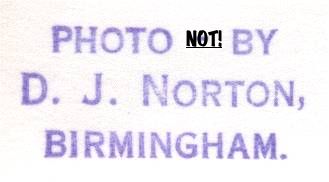 Stirchley
All old pictures on this page from
The Geoff Thompson Archive
Note that you can click on the old pictures to see a modern view


1134 Pershore Road - 11/4/58

Although in the Stirchley section, the location of this picture would more accurately be described as Ten Acres, the area between Selly Park and Stirchley.

What a cracking shot! Pavilion Sweeties got its name from the nearby Pavilion cinema. The shop is sadly no more, demolished some years ago, but the houses to the right survive to this day as can be seen in my modern view. Note the jackets hung outside - looks like a bit of tailoring was going on there.

9 Warwards Lane - 10/10/57

Another shop close to the Pavilion cinema pinches its name. This time it's Pavilion Stores. Located at the Stirchley end of Warwards Lane close to Pershore Road, the shop was converted to a house at some point in the past as my modern view shows. What I found particularly interesting when I saw the site today was how the structure of the neighbouring garage had been incorporated into it's replacement.

Three Horseshoes - 12/9/52

The Three Horseshoes pub at the junction of Pershore Road and Umberslade Road is not that much changed from the pub we know today.

I have some happy memories from the days before children were allowed inside! When I was little we had very occasional trips to this pub and that meant an evening spent in the beer garden. But it was not so much a garden as a place of mystery and adventure... Strange canopies surrounded the slabbed garden and there were plenty of places to play hide and seek. A lot more fun than sitting inside, watching adults get drunk, sipping on Fruit Shoot and colouring in pictures of clowns which is what the children of today have to put up with!

Hazelwell Lane - 17/4/56

What a corker! Looking down Hazelwell Lane from its junction with Pershore Road, we see a tranquil scene. Today, this piece of land is one of the most hotly debated in the city. Two major applications for redevelopment were put forward to the city council, one from the Co-Op and one from Tesco's. Without doubt, local people were heavily in favour of the Co-Op bid. After all, the Co-Op in this area grew out of TASCOS - the Ten Acres and Stirchley Co-Operative Society. It's disappointing, therefore, that the city council seem to have sided with Tesco as explained on the Stirchley website. One thing that upset many local people is that the cottages seen in the centre of the picture were bought by Tesco several years ago and have been left empty ever since.

1387 Pershore Road - 4/9/51

This shot is looking north along Pershore Road towards the junction with Hazelwell Street. The church was the Church of The Ascension. It was destroyed by fire in 1965 and eventually moved to a new site off Pineapple Road. The church's website contains some interesting history.

Note the tram tracks and overhead cables. Trams would continue to run down Pershore Road to Cotteridge until July 1952.

1393 Pershore Road - 6/9/61

This shot shows that TASCOS was always a part of Stirchley. It was taken from roughly where Hunts Road meets Pershore Road, looking towards Mary Vale Road. The sign above the archway says, "Metalcraft Productions (Stirchley) Limited Sheet Metal Workers". When out taking pictures for my book, I spotted this old sign for the same company and couldn't resist taking a photo.

The picture was taken almost 10 years to the day after the one above and compliments it nicely - note Porters is the common link. My thanks to Maria for providing some memories about what became of Porters a couple of years after this picture was taken:
"My mum's mother and her second husband owned a business in Stirchley from Christmas of 1964 (Lilian and Maurice Rich). They opened a cafe in 1964 at 1389 Pershore Road. The building which was Porters later became my nan's cafe. My mum lived there for 6 months with her mum and grandmother, and her step-father. My mum married my dad in June 1964 and moved to Midland Road. My great grandmother died on the premises, aged 84, in September 1964. My nan continued to run this cafe until the late 60's, when her and her husband moved to become pub landlords."

The carved plaque inset in the wall of the Co-Op says 'The Central Bakery 1891' and here is a close up showing how it appears today.

1470 Pershore Road - 25/3/65

Although not the oldest picture in the collection, what caught my eye with this one was the tobacconist shop. It's still in business today under the ownership of P.Browell and it looks little changed as can be seen in my modern view. A rare survivor indeed... It lies between Hazelwell Road and Ivy Road.

1480 Pershore Road - 23/7/56

Just the other side of Ivy Road from the picture above, I was surprised to find the garage building to the right also survives, although my modern view shows that it now appears to be unused.

The two boys by the cafe don't look too impressed about being photographed!

1578 Pershore Road - 5/2/60

These shops lie at the southern end of the village. Many of the shop fronts have been removed as the buildings have been converted to housing and, ahem, other uses. Let's just say that Stirchley supports many professions, including the oldest one! The Evening Mail explains all...

Fordhouse Lane - 7/10/63

This shop on the corner of Pershore Road and Fordhouse Lane was also photographed by my father. In his case, however, it was just the backdrop to a perfectly timed view of two trams passing.

Although it features in my modern view taken in June 2008, its days are numbered as demolition is planned so that the junction of Pershore Road and Lifford Lane can be improved.

44 Fordhouse Lane - 11/12/57

The type of simple store that could be found in many suburban streets in years gone by. Its days as a shop ended long ago and it is now a residential property as seen in the modern view.

173 Fordhouse Lane - 7/12/53

This is an interesting picture. Taken close to where Fordhouse Lane crosses the River Rea, this site would later provide the entrance to Hazelwell Crescent as can be seen in the modern view. I'm just about old enough to remember that road and associated estate being constructed!

2 Lifford Lane - 20/3/61

Right on the border of Stirchley and Cotteridge, here are some more shops that have since been converted into houses.

The outbuilding and chimneys to the right belonged to The Breedon Cross Hotel, sadly destroyed by fire and now replaced by flats. The flats are clearly visible on my modern view.

---