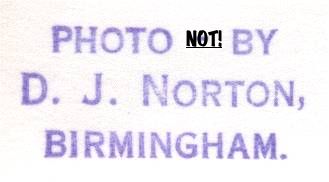 Most old pictures on this page from
The Geoff Thompson Archive
Dowell's Retreat, Bordesley
One of the things I enjoy most about developing this website is the research related to each picture. And nothing can beat the feeling I get when I work out the location of an unidentified picture. Often this process leads me on a voyage of historical discovery and this page illustrates that more than any other!
Amongst Geoff's slides was the photo below. I could tell this wasn't your average back-to-back due to the arched window to the left. But where was it taken...?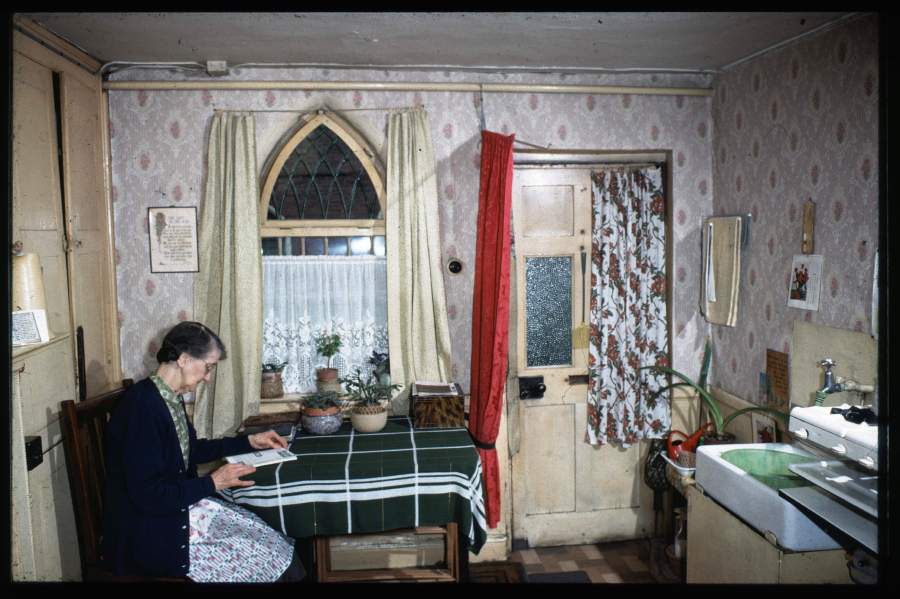 When I looked through Geoff's collection of prints, I came across a group of four showing pictures of windows that were labeled 'The Retreat, Warner St, 27/5/66'. It was clear that this provided the clue to the old lady's home, and looking through the windows, you could make out rows of houses with the same arches.
| | |
| --- | --- |
| | |
| Window matching cottage interior | View of cottages |
Thanks to the internet, it was easy to find more information. 'The Retreat' was originally known as 'Dowell's Retreat' and was a group of almshouses created by James Dowell.
This book
says, "The cottages were set about in a courtyard, with a house at the end for the Superintendant, with a chapel above it. The chapel was decorated with painted glass, depicting English Cathedrals and old Birmingham buildings. Above each cottage door was an ogee-shaped cast iron panel depicting alternatively symbols of 'Fath' and 'Hope' - 'Charity' was represented by the almshouses themselves".
It seems Dowell's Retreat was founded in the late 1820s and endowed by a deed of 1831. It consisted of 20 cottages that were intended for women aged between 55 and 70 from Bordesley and Deritend.
When I was lucky enough to borrow the
Steve Gosling Archive
in 2014, I was delighted to find some superb colour slides that captured The Retreat wonderfully!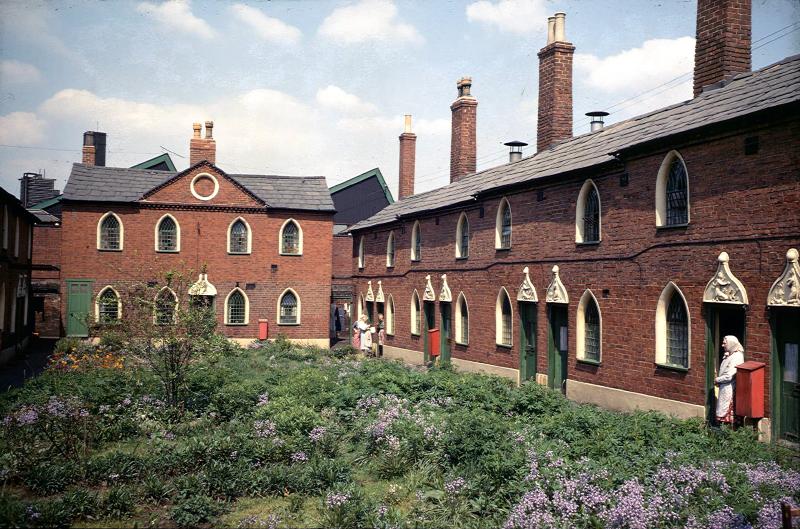 Full view of the cottages and chapel,

c.

1966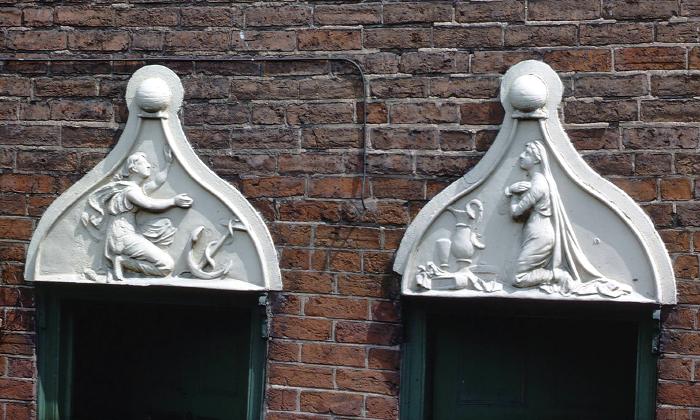 The cast iron panels depicting faith and hope,

c.

1966









The four chapel windows



The windows of the chapel were fascinating, and many of the paintings on the glass had survived when the pictures, above, were taken in 1966, although I have found no evidence of them featuring Birmingham buildings. Some of the most interesting ones can be seen below.
| | |
| --- | --- |
| | I guess it's not surprising that churches and cathedrals featured heavily on the window. Here is Carlisle Cathedral. But this doesn't look quite right compared with a modern photo so maybe there is some mistake here..? |
| | Next up is Hereford Cathedral, possibly pictured before the western tower fell. |
| | Finally for the cathedrals, Salisbury. |
| | The text says, "Tewksbury Ch." but this is clearly Tewkesbury Abbey. |
| | First of the churches proper is Barton Under Needwood. I believe it shows St. James'. |
| | This picture of the Dutch Church, London, gives us our first clue to the artist's inspiration. See below... |
| | Finchley Church. To me, this looks like it shows St Mary's, Church End. |
| | Shoreham Church, Sussex. |
| | The text for this one was a bit hard to read but it says St. Martin's Ch., Westminster, more commonly known as St. Martin-in-the-Fields. |
| | As well as all the religious buildings there were quite a few more general pictures, although this view of Coventy does highlight the two towers of the old St. Michael's Cathedral and Holy Trinity Church. |
| | Now this is an interesting one. Croyland Bridge is what it says, but Croyland is now known as Crowland and is in Lincolnshire. Amazingly, the bridge survives, but is now on dry land! It is known as Trinity Bridge. |
| | Frogmore House can still be found in Windsor Great Park. |
| | No caption for this one but it is clearly Warwick Castle. |
Just a couple more, this time double pane pictures.
| | |
| --- | --- |
| | A nice pair of views of Westminster Abbey. |
| | And finally, one of my favourites, a panorama of Tetbury in Gloucestershire. I suspect the church on the hill in St Mary's. |
The inspiration for many of these paintings seems to have been contemporary etchings of the period. Compare the painting showing Great Malvern Church with an 1814 etching by George Shepherd held by the
Victoria and Albert Museum
:-
The fact that this etching, and a similar one of Dutch Church, London, both came from '
The Beauties of England and Wales
' suggests that the artist had a copy of this book!
Of course, being based in Birmingham meant that these historic properties were inevitably demolished sometime after 1966, despite
Pevsner describing them
as, "Enchanting, and completely unexpected". Unlike other cities, Birmingham didn't seem to care about losing history if it stood in the way of progress! Just have a look at these almshouses that survive close to the centre of Worcester:-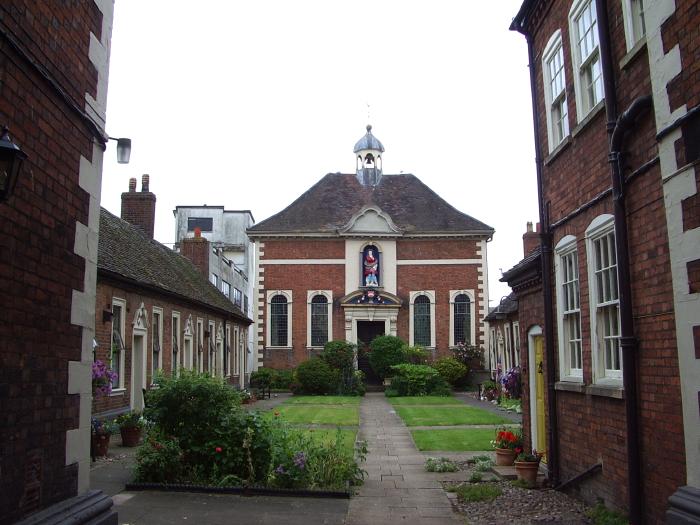 Berkeley's Hospital, Worcester, June 2014
An archaeological dig of the site of Dowell's Retreat was undertaken in 2006 and
the report
makes for interesting reading.
---