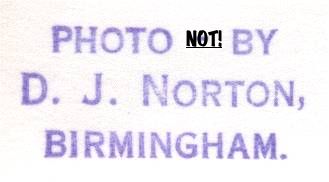 Weoley Castle
All old pictures on this page from
The Geoff Thompson Archive
Note that you can click on the old pictures to see a modern view


157 Castle Square - 5/10/54

A handsome row of shops in Castle Square. The name is a bit misleading as it's really more of an oblong!

I can't quite make out all the shop names but I think it's as follows (left to right); T. Faux, Planty's Stores, ?, W. I. Ragg & Son and John Favours Ltd. Two children are looking in the window of Ragg's, probably at the cakes on display! The delivery truck is from nearby Cadbury's.

I'm pretty sure this is the same row of shops seen on the right of this picture on the Birmingham Council website. That would put the location as the eastern end of Somerford Road where it joins the square. Thanks to Carlton for confirming this and providing another, splendid modern view. Thanks, too, to Alan who pointed out that the address of these shops is actually 153-161 Somerford Road and not Castle Square as indicated on the back of the print.

Barnes Hill - 30/7/57

Seeing California Garages looking like this was a bit of a surprise. I bought a car from California Autocentre in 1990 and it was very different from the simple warehouse style structure shown above! The site is now occupied by a bingo hall as shown in this modern view kindly provided by Carlton.

The modern building just visible to the far left is Hillcrest School on Stonehouse Lane. Just to the left of that you can see the shops pictured below.

121 Barnes Hill - 4/6/64

This row of shops was further down Barnes Hill, close to the junction with Middle Acre Road. From left to right they were; Weoley Fish Saloon, D&E Stores (grocers), Streets (fish, fruit and veg), Udy's (drapery and toys), Brown's (newsagent) and another Udy's (wallpaper, paint and hardware).

There is still a fish and chip shop at 133 Barnes Hill. It's called 'Big Fry' as shown in this modern view kindly provided by Carlton.

John got in touch with this fascinating story related to this picture:
"In the late 60s - 1968 I think although it could one year either side, A tornado ripped through this part of Birmingham - there were no injuries thankfully - It was never called a "tornado", people always referred to it as "The whirlwind". It started off in Senneleys park and then went over this row of shops - it tore off the roof of the chip shop and the shop next door (part of D E stores grocers) - If you look at the "then and now" pictures you'll see those shops had to have their roofs rebuilt and have been tiled in different roof-tiles. The tornado also knocked down a brick pillar in front of the "California" pub which stood opposite the shops - The pillar was topped by a big plaster representation of an over-flowing fruit basket and the road was filled with over-size fruit! The tornado then went along Alwold road, bending many of the lamp-posts to crazy angles - but then seemed to loose force and so thankfully did no damage when it stuck Paganal Junior school (where I was at the time) - Although it did "touch-down" again in the car-park of the Queen Elizabeth hospital and damaged some cars. - I remember seeing the damage reported on the local TV news that night and reports in the papers the following day - but memory of the event seems to have slipped away - I've never been able to track down the exact date it happened."

124 Stonehouse Lane - 19/7/50

This is my favourite Weoley Castle picture by a mile! In the distance, the council houses that became synonymous with the area are clear to see but the older terraced houses to the right show that Stonehouse Lane was well established before the Weoley Castle estate grew up nearby.

The picture is taken looking towards Barnes Hill with Stonehouse Lane passing from left to right. Rose's Cafe is on the corner with California dyers and cleaners next door. The short post on the small island is a fire alarm and these were found scattered around the city before public telephone boxes made them redundant.

My modern view for this scene was not taken from exactly the right spot as I wanted to show how dramatically things had changed. 124 and its neighbours 126, 128 and 130 have all gone to make way for the much larger (and busier!) island found here today.

---