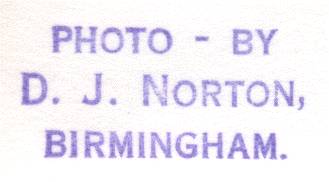 Halesowen Railway - Odds & Ends

A few bits and pieces discovered buried in the collection
Frankley Filter Beds - 4/8/54

What have these got to do with the railway? Well, during the construction of the waterworks there was a branch from Rubery Station to help deliver materials. The track was lifted after completion of the project in the early years of the twentieth century

A page on the MIAC site provides scans of maps from 1902 that show the branch line clearly.

It is very easy to follow the route of the branch as a footpath through the Frankley housing estate seems to have been constructed in exactly the same location! There were three level crossings on the branch (Bedlam Lane, Frogmill Lane and Egghill Lane). When I visited this site in June 2007, I was sad to see that the crossing keepers cottage for Frogmill Lane had recently been demolished. This was especially disappointing having seen the surviving cottage at New Street (formerly Bedlam Lane). This modern view shows the site of the cottage - the line would have run from left to right and the site of the cottage is marked by the silver fence.

I was very fortunate to be contacted by Neil who was able to provide this modern view of the filter beds taken from a similar location to the top picture above. We both wondered if the tree seen to the right of the old and new views was the same one...


The next three photo's were taken by my father's friend, Ken Morris. There is a box of Ken's prints in the collection and given the interest in Halesowen Railway photo's I thought I should include these.
58143 App Hunnington Viaduct - 4/9/55

I originally wondered if this was a workmens train for Rover workers as there are about 10 men on board, all wearing cloth caps. David got in touch to say, "This certainly was not a Workmens' train for Longbridge; they were comprised of traditional coach stock.".

My father took a colour slide of the same train from just to the left of this scene.

58903 Hunnington Viaduct - 2/6/54

A splendid picture of a Stephenson Locomotive Society special steaming towards Rubery. The society organised many trips for it's members and a ride over the viaduct must have been a special treat.

45561 Halesowen Jnc's Distant - 28/12/54

45561 is on the main line approaching the Halesowen Junction. Thanks to Ken for pointing out that this shot was taken to the north of the junction. He says, "In the background are Daffodil Park and Kalamazoo.".

---