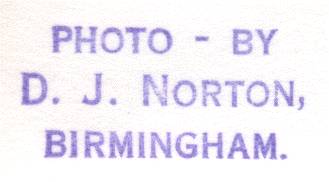 LMS Journal 85th Anniversary

Midland Record 26




LMS Journal
LMS 85th Anniversary Issue
ISBN 978 1 905184 40 8

Midland Record 26
ISBN 978 1 905184 39 2

After posting pictures of Birmingham railway stations, Mike Musson of
Warwickshire Railways
put me in touch with
Bob Essery
who was very keen to find some photo's of Washwood Heath. I was lucky enough to be able to visit Bob earlier this year (2007) and he cast his expert eye over the collection. The outcome of this meeting is now in print!
'
Midland Record 26
' contains a major feature about Washwood Heath sidings and includes fourteen D J Norton pictures. '
LMS Journal
' includes a piece about Wolverhampton High Level station and also includes fourteen D J Norton pictures. To have my father's work recognised as important by people such as Bob Essery gives me and my family a great sense of pride - my father would have been delighted, I'm sure.
I very much hope to work with other authors over the next few years to ensure that more of my father's photographs are made available to the people who will appreciate them the most.
---