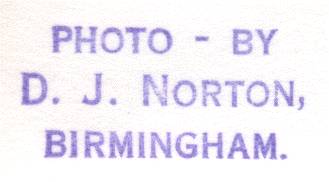 Trams Outside Birmingham

The vast majority of tram pictures in the collection were taken in Birmingham. The three below will, I'm sure, be of interest to many so I have shared them here.
For Llandudno tram information, I recommend the
Llandudno and Colwyn Bay Tramway Society
website. For Liverpool,
Ron's Liverpool Tram Site
is the place to go.
I find it interesting that
Dewi Williams
of Canada had many interests in common with my father. As well as taking pictures of the
Liverpool Overhead Railway
, he also took pictures of the trams at
Llandudno
and
Liverpool
! If you are a transport enthusiast with a hankering for days gone by, I suggest you spend some time looking around Dewi's site.
Tram 3 Llandudno - 27/7/55

This picture is taken at the juntion of Gloddeath Street and Mostyn Street with North Parade behind the tram. The scene today is little changed apart from the roundabout that now occupies this junction. The trams used to run from Llandudno all the way to Colwyn Bay but the system closed in March 1956.

My wife and I visited Llandudno a few years ago and we would both highly recommend it!

Tram 3 & 21 Llandudno - 27/5/55

Having crossed over the road, this view now shows the other side of the same road junction. Tram 21 was known as a 'toast-rack' car for obvious reasons! I don't know what modern health and safety would make of it...

Although this tram system has gone, the Great Orme Tramway is still operating and is well worth going on.

Tram 161 nr Tunnel Entrance, L'Pool - 10/4/55

I have to say, I do like the style of these Liverpool trams - very 1950's sci-fi! It looks like tram 161 is undergoing some repairs.

The tram is on service 13 from Pier Head to Dale Street. With the help of the excellent Street View feature of Google Maps, I was able to work out that this picture was taken at the junction of William Brown Street and Old Haymarket. That meant that the building in the background is now the Liverpool World Museum.

This page shows the picture of the 'Tunnel Entrance' my father refers to in the naming of this shot.

---