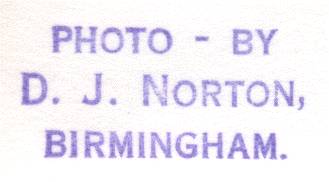 D. J. Norton's Pictorial Survey of Railways in the West Midlands
by Bob Essery

Shortly after putting the first of my father's railway photographs on the site, I was introduced (via email) to
Bob Essery
. Mike Musson of
Warwickshire Railways
had been trying to help Bob with pictures of Washwood Heath and it turned out that dad had taken a good selection of the area. These eventually appeared in
Midland Record 26
.
I met up with Bob a couple of times and he cast his expert eye over the whole collection. He soon saw an opportunity to start a project he'd had in mind for a while - a history of the railways around Birmingham. What's more, it could be totally illustrated by D. J. Norton photographs!
Things kicked off in April 2008. Once we'd identified the boundaries, my task was to search through the collection and find all the suitable pictures for each site. I then scanned them, catalogued them and sent the details to Bob. This kept me busy up until the first week in August. With all the pictures to hand, Bob then selected the best and wrote the captions. It was sent off to the publishers and we had some breathing space in August and September.
It quickly became clear that there were so many great pictures that a single volume would be too thick and expensive so the final book will comprise of three parts. This created a bit more work and October became hectic as we finalised the contents of those parts and performed all the proof reading. My final job was to prepare the pictures for print and send them to the publishers. I have now completed that task.
The plan is to launch all three volumes at the
Warley Model Railway Club show
at the NEC on the weekend of Nov 22/23 2008. Whether we'll make it is yet to be seen! I am sure Part 1 will be on sale, there is a good chance that Part 2 will make it and if Part 3 isn't quite ready, it won't be far behind.
The division is as follows:-

Part 1:

LNWR Lines

ISBN 978 1905 184 507

144 pages

£19.95

Coventry to Stechford:
Includes Coventry, Tile Hill, Berkswell & Balsall Common, Hampton-in-Arden, Marston Green and Stechford.


Stechford to Wolverhampton:


Includes Adderly Park, Proof House Jct, New Street (Western side), Monument Lane, Harborne Jct, Winson Green, Soho Soap Works, Smethwick, Galton Jct, Spon Lane, Oldbury, Dudley Port, Watery Lane, Tipton (Owen Street), Monmore Green and Wolverhampton (High Level).


Stechford to Bushbury via Aston:


Includes Stechford, Aston (inc. shed), Witton, Perry Barr, Great Barr, Soho Road, Curzon Street, Vauxhall & Duddeston and more Aston (inc. gas sidings).


South Staffordshire:


Including Brownhills, Pelsall, Walsall, Pleck Jct, Goldshill Crossing and Dudley.


Aston to Lichfield:


Including Gravelly Hill, Four Oaks, Blake Street, Shenstone, Lichfield City and Lichfield Trent Valley


Part 2:

Midland Lines

ISBN 978 1905 184 514

112 pages

£17.95


Tamworth to New Street:


Includes Tamworth (High Level and Low Level), Kingsbury Station Jct, Whitacre, Hams Hall, Water Orton, Castle Bromwich, Bromford Bridge, Washwood Heath, Saltley Station, Duddeston, Saltley Shed and New Street (Midland Side).


Birmingham West Suburban:


Includes Five Ways, Church Road, Selly Oak, Bournville (inc. Cadbury's), Canal Branch, Bournville Shed and Lifford West Jct.


Water Orton to Wolverhampton:


Includes Penns, Aldridge, Walsall Wood and Brownhills.


Hampton to Whitacre:


Includes Whitacre, Maxstoke and Hampton.


Additional Material:


Central Goods, Lawley Street and Kings Norton notices.


Part 3:

More Midland Lines

ISBN 978 1905 184 521

112 Pages

£17.95


Birmingham & Gloucester via Camp Hill:


Includes St. Andrews Jct, Bordesley Jct, Camp Hill (inc. sidings), Brighton Road, Moseley, Kings Heath Ballast Sidings, Kings Heath, Hazelwell, Lifford, Kings Norton, Northfield, Halesowen Jct, Barnt Green, Linthurst I.B., Blackwell, Lickey Incline and Bromsgrove.


Longbridge to Halesowen Branch:


Includes Halesowen Jct, Longbridge, Frogmill Crossing, Rubery, Holly Hill Crossing, Frankley Sidings, Dowery Dell (Hunnington) Viaduct, Hunnington and Halesowen.


Barnt Green to Redditch Branch:


Includes Barnt Green, Alvechurch and Redditch (inc. shed).

I'll be at the show between 11:00am and 3:00pm on November 22nd. I've had a reproduction 'Photo By D. J. Norton - Birmingham' stamp made and anyone who turns up on the day can have their book(s) stamped if they wish. Bob Essery will be in attendance throughout the show. You can find us both on stand F24 - LMS Matters.
What does this mean for the site?
You may be thinking that if all the pictures are available in print then why update the site? Well, that's not what is going to happen! There are plenty of people who only buy books and don't use the internet. Likewise, there are plenty of people who like to look at railway pictures online but would never think of buying a book. I intend keep everyone happy! What's more, by working on the book (and neglecting the railways side of the site…) I've done 80% of the work I need to do having sorted, scanned, catalogued and researched over 600 photo's - creating new web pages will be a lot easier and quicker from now on.
Regards
Mark Norton
27 October 2008

---