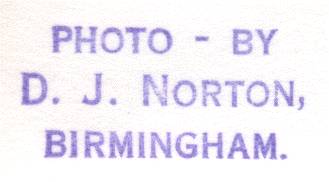 Central Goods Sidings

Birmingham's Central Goods sidings were based right in the heart of the city on a site that is now occupied by
The Mailbox
, the Axis building (formerly Stanier House) and the Centenary Plaza apartments on Holliday Street.
M.R. Goods Station Offices - 26/7/53

Close to the sidings on a triangular plot formed by Suffolk Street, Holliday Street and the long since disappeared Allport Street was this attractive office building. The gothic style building to the right was the College of Technology.

B'ham Central Sidings - 26/4/54

It seems that my father was up to his tricks of being where he shouldn't be as this shot was clearly taken from within the heart of the sidings. If you look at the picture directly below, you will see that he was stood in front of the signal box.

The buildings in the distance are on Suffolk Street and the College of Technology is clearly visible providing a reference for the site of the goods office pictured above.

Paul provided a depressing modern view of this scene and said:
"The original picture was taken in front of the signal box, just to the right, and slightly further forward than this one, (which is in the middle of the tunnel face), somewhere around where the short lamp is - just to the left of the tree. After the Central goods sidings were cleared in the late 1960's, BR built Stanier House on the site, which is still there on the right, but is now know as the Axis and no longer used for railway purposes. The accommodation on the left (Centenary Plaza) is new, only being built in the last few years.

We still use the old track bed from here to get to Five Ways station, which is quite an experience with the state of the ground conditions."

Ian got in touch to explain that the Axis has not totally lost it's railway connections:
"The six or seven wings of us in The Axis who still work for Atkins Rail would like to point out that we are very much still involved in the industry – although there are far fewer of us than there were – and we still have a worrying tendency to refer to the concrete monstrosity as Stanier House at every opportunity to do so! British Transport Police occupy several wings, so there's still a big
railway connection there."

43675 21B Central Sidings - 3/7/54

I believe this picture was taken from Holliday Passage. Holliday Passage survives to this day and is a useful walkway from the back of the Mailbox to Holliday Street. This modern view was taken from Holliday Passage in April 2006.

Class 3 0-6-0 43675 was from Bournville shed.

---