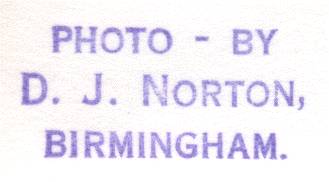 Birmingham Rail Sites

When I first looked through the boxes of prints, I was surprised to find a large number of what I considered to be 'uninteresting' pictures. Who would care about endless shots of track layouts, signals and odd bits of sidings? When I saw the faces of rail enthusiasts light up when they looked at some of these pictures, it started to make sense. Far from being uninteresting, these shots were often very rare, even unique. In the same way as he had done for
Birmingham
before the introduction of the Inner Ring Road, my father was recording history for the benefit of future generations. I now realise that these images are of great importance to railway historians, enthusiasts and modellers and I'm pleased to make them available here.
Being a Birmingham man, many of the shots were taken in the Birmingham area. This page allows access to some of the photo's taken around the city. If you have a particular interest in a location, please get in touch and I'll see what I can do.
Note that this page does not cover stations - please see the
Railways
page for Birmingham and local stations and pictures of New Street station. Also, see the
Birmingham
page for further pictures of
New Street station
.
---
Sheds
| | |
| --- | --- |
| Bournville | A superb pictorial record from the late 1940's through to demolition in 1961 |
| Monument Lane | Pictures taken close to Monument Lane shed and station in 1954 and 1955 |
| Saltley | Pictures of Saltley Shed in 1948, 1949, 1956 and 1961 |
---
Sidings
| | |
| --- | --- |
| Central Goods | Pictures of Birmingham Central Goods sidings and offices from 1953 and 1954 |
| Curzon Street | A picture of Curzon Street Sidings from 1955 |
---
Junctions
| | |
| --- | --- |
| Bordesley Jct | Pictures of Bordesley Junction from 1954 including layout diagram |
| Grand Jct | Pictures of Grand Junction from 1960 |
| St Andrew's Jct | Pictures of St. Andrew's Junction from 1954 and 1955 |
---
Signals and Signal Boxes
Brickyard Crossing

A colour photo of Brickyard Crossing from 1955.


Selly Oak Boxes




and Signals



Pictures of Selly Oak's new signal box in 1957 and 1958 including shots of the old one being demolished

Box Interiors

Interior shots of Bordesley Jct, Duddeston Rd, Lifford, New St No.2 and Saltley Jct boxes

---
Miscellaneous
---