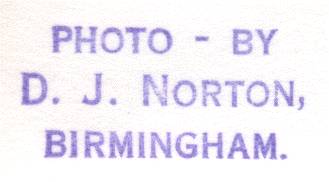 Ffestiniog Railway

My mother remembers being taken to Wales to be involved in meetings regarding the Ffestiniog Railway held in the backs of shops! I doubt she was interested but it's clear that my father was. Turning the disused tracks back into a working system started in 1954 and one of these pictures goes back to 1956.
My wife and I rode the Ffestiniog in September 2004 and highly recommend it! You see views of the Welsh countryside difficult to achieve in any other way. Plan your trip via the
official website
.
There is a thriving group called the
Ffestiniog Railway Society
. There is also a very informative website run by the
Festiniog Railway Heritage Group
- the wiki section is excellent. Obviously, the interest in this splendid, narrow-gauge railway continues unabated over 50 years on...
"Prince" Minffordd Stn - 14/7/56

The earliest shot from the collection taken just two years after efforts to re-open the line started. Prince is the oldest engine on the line and is still in service today.

Stub Point Portmadoc - 14/5/60

Cei Mawr - 14/5/60

Cei Mawr is the dry stone embankment that carries the line over a stream.

Level Crossing Penrhyn - 14/5/60

W End of Short Tunnel - 15/5/60

The short tunnel is called Garnedd Tunnel.

E End of Short Tunnel - 15/5/60

Line Nr Moelwyn Tunnel - 15/5/60

A cracking shot of the approach to the old Moelwyn Tunnel. The tunnel had to be closed in 1977 when flooding occured as a result of a hydro-electric scheme. A new tunnel was built at that time.

Site of Moelwyn Station - 15/5/60

The site of a station near the old tunnel. There is an excellent photo showing roughly the same scene in 1887 on the Festiniog Railway Heritage Group wiki.

S End of Long Tunnel - 15/5/60

I think this is looking out of the old Moelwyn Tunnel towards the location of the picture directly above.

Site of Station Blaenau Ffestiniog - 15/5/60

Apparently, Blaenau had several stations over the years. Thanks to Roger for letting me know that this was the former LNWR exchange station known on the Ffestiniog Railway as Stesion Fein, and in BR days as Blaenau Ffestiniog North

I took a photo of the current station in September 2004 which provides an interesting comparison.

"Prince" Portmadoc - 31/8/62

The end of the line - Portmadoc Station.

Exterior of Portmadoc Stn - 31/8/62

---