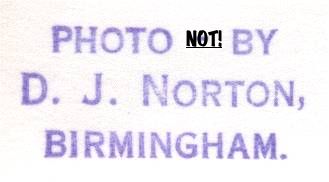 Cotteridge
Most old pictures on this page from
The Geoff Thompson Archive
Pershore Road - 23/10/51

Broad Meadow Motors used to be on the hill that leads up from Stirchley to Cotteridge, between Lifford Lane and Frances Road. Today, this site is occupied by a petrol station.

Note the tram tracks and overhead cables. Trams to Cotteridge continued to operate until July 1952.

1726 Pershore Road - 23/5/58

Looking the other way to the picture above, Broad Meadow Motors is the building on the left.

A car lot has replaced 1724 Pershore Road sometime during the six & a half years between these pictures. This survived right up until 2007 when it was replaced by a small housing development!

Pershore Road - 14/11/51 & 1/5/58

Two shots of Scott's Garage that was located opposite Midland Road. In the six & a half years between these photo's, we can see that the garage has been modernised and the number of pumps has increased from 4 to 6.

In the top shot, the houses visible are in Holly Road, the road where my parents lived after getting married and where my brother was born. In the lower shot, the grand building next to Scott's is the Cotteridge Social Club, still going strong today!

There is still a garage on this site - it is now the home of a Nationwide Autocentre.

1885 Pershore Road - c. 1938

This picture was sent to me by Mary Gibbons who moved to 1885 Pershore Road in 1947 when her father bought the shop from his employer, Arthur Turner. He decided to keep the name of J.L.Mason so that the customers would still recognise the shop.

J L Mason was primarily a fishmongers but a small sign above the entrance says that it was also a, "Licensed Dealer in Game". Mary thinks the picture was of Christmas stock as she remembers it looking like this at Christmas when she was a child. Normally there would just have been a display of fish on the marble slab. Note the sawdust on the floor to prevent slipping.

Mary's father, Jim Bird, is the chap on the right and at this time he was a fishmonger's assistant. Less than 10 years later he would own the shop - quite an achievement!

My thanks to Mary for allowing me display this picture here.

Rhodes Store, Cotteridge - 1960's

Another picture provided by a site visitor, this time Terry whose father was a director of the Rhodes group of companies which included W H Rhodes Ltd. Rhodes had many stores around the Midlands (and further afield in Scotland under the Stafford House name) and their Kings Norton branch was adjacent to the entrance to the bus depot on Pershore Road, Cotteridge.

You can find more pictures of their stores, including Kings Heath and several in the city centre, on Terry's Flickr page.

Rowheath Road / Midland Road - 25/3/66

What a corker! This is a real 'Open All Hours' store! Arkwright, eat your heart out...

On the corner of Midland Road and Rowheath Road (the latter disappearing into the distance) was this store owned by D. Nicholls. Amongst the items on display are step ladders, bowls, mops, buckets, coal, seeds, plants and watering cans. Fantastic.

What isn't fantastic, in my view, is the sign of a desire to modernise Victorian and Edwardian buildings like this. Look what's happened next door - the sash window and the beautiful brickwork above have been removed and replaced with an ugly, modern, softwood window that is almost certainly long gone now. What did people think they were doing!?

Watford Road - 20/10/55

Now this picture caught my attention straight away. I recognised that Bullock's and the Empire store would later become the site of Woolworths as shown in my father's colour picture. To the right of Empire Stores is Boots, still there today!

46 Watford Road - 13/8/51

This picture was taken from the corner of Watford Road and Northfield road and shows Wincott's Newsagent and Tobacconist on the opposite corner of Watford Road and Rowheath Road.

Note the attractive lamppost to the right, probably still gas powered at this time. I like the two little extra lamps to illuminate the 'Keep Left' sign.

---