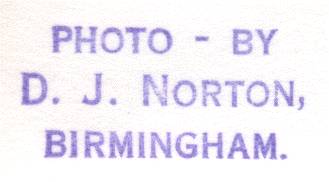 Birmingham and Local Stations L-M in Colour

Covers
Lifford
and
Marston Green
and
Moseley
Move cursor over pictures for more information
Lifford

The Lifford area of Birmingham's railways had quite a tortuous history. I won't repeat it here - I'll just refer you to the excellent notes on Rail Around Birmingham.

The first picture shows Lifford Station Junction signal box. The view was taken looking towards the city. The wide space to the left and the name of the signal box give an indication that this was the site of the short-lived first Lifford Station (1840-1844).

The middle picture shows a view of the Worcester and Birmingham Canal from Breedon Hill. It also gives some idea of the scale of Lifford Wharf.

The final picture in the sequence is a real cracker! The third and final station building dating from 1885 is very handsome. Again, you'll find detailed notes about this on Rail Around Birmingham. I believe that the view is again towards the city and the chimney belonged to R J Hunt Iron Foundry.

Marston Green

Marston Green was a favourite haunt of my father as his friend, Vic Goodwin, was signalman there for a while. I've a feeling that Vic is the gent in the white shirt on the top photograph.

The lower picture was taken from the footbridge and is looking away from Birmingham, towards Coventry. It clearly shows the sidings. The green hut has a sign for, "W Alldridge & Sons - Coal and Coke merchants". The houses to the right are located in Elmdon Lane.

Moseley

Four colour slides taken near the site of Moseley Station see my father wandering along the tracks to get some useful shots. The top picture shows the southern entrance to the tunnel under St Mary's Row. After walking into the tunnel, the second picture shows the site of the old station - the bridge carries Woodbridge Road over the railway. The third shot is from above the northern entrance to the tunnel and shows 44917 steaming past the station site.

The bottom view was taken a few weeks later and is looking out of the southern end of the tunnel towards Kings Heath station. Just out of view is Kings Heath Ballast Sidings. My father took a cracking shot of this on 30 May 1955.

---