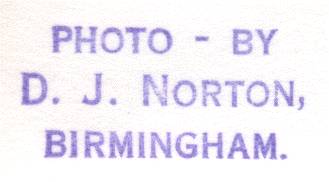 Miniature Railways
My father clearly enjoyed the world of steam, whatever the scale! This page contains pictures of miniature steam railways taken between 1952 and 1962. Some survive to this day while others are a distant memory, hopefully stirred by the pictures below.
Miniature Railway, Evesham - 6/7/52

The exact location of this railway is not known so please get in touch if you have some useful information. Today, there is a miniature steam railway that runs at the Evesham Country Park - the Evesham Vale Light Railway.

RMR "Billy" Passing Shed - 27/7/55

This one was fairly easy to locate as my father had been in Colwyn Bay on the same day he took this picture. That must mean that the RMR is Rhyl Miniature Railway, Britain's oldest miniature line (dating back to 1911) and still in operation today

Site of Minature Rly Stn, St Annes - 3/4/56

Who but my father would take a picture of the

site of

a miniature railway station!? He was on a trip to Blackpool so could this be part of the St Annes-on-Sea railway? There is still a line in the town today but I believe in may be a different one - can anyone advise?

DZR "Katie" Approaching Main Terminus - 19/5/57

I needed some help to find out what DZR meant and my thanks go to Bill Hyde for solving the conundrum! It was the Dudley Zoo Railway. Bill also told me that "Katie" moved to the FMR (see below) in 1965 and was 15 inch gauge.

DZR 5751 On Shed - 19/5/57

Another Dudley Zoo loco, this one on shed.

"Count Louis" FMR, Barmouth Ferry Stn - 17/5/59

For more great pictures of the FMR - Fairbourne Miniature Railway - I highly recommend Bill Hyde's superb 'Return to the Ferry' website. There is also a very good page on Wikipedia. Basically, the line provided a connection from Fairbourne to the pedestrian ferry at Barmouth Ferry. I'm pleased to say that it is still operating today and has it's own website!

Barmouth Ferry Stn, FMR - 17/5/59

The Barmouth Ferry end of the line. You can just about make out people catching the ferry, a service that reminds me of the Teign Ferry crossing from Shaldon to Teignmouth in Devon, said to be the oldest such service in the country.

Fairbourne Stn, FMR - 17/5/59

The other end of the line, Fairbourne Station, on a busy, May Sunday. My research suggests that the day after this picture was taken would have been Whit Monday and I guess that explains why it's so busy.

Fairbourne Stn, FMR - 1/9/62

A similar, but slightly wider view taken three years later. It's much quieter in September!

Fairbourne Pictures by H W B Reed - c. 1927

Gordon got in touch to say that his father, H W B Reed, had taken pictures of Fairbourne Railway way back in the 1920's! He has been kind enough to share the two pictures above.

Of the first picture, he commented, "The photo with the two little boys included me, aged about 6 and my cousin about 11". For the second he noted, "The driver whose name I never knew, had a shock of red hair".

---