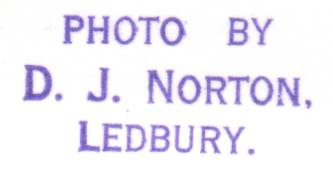 Hereford
After my parents moved to
Ledbury
in 1963, Hereford was one of the nearest cities and was a place they visited fairly frequently. I paid a visit myself in August 2009 but sadly didn't have time to sort through the collection to find all my father's pictures to enable me to re-create his past views accurately...
I like Hereford. It is a city that has managed to avoid the ravages of the 20th century town planners and is full of beautiful old buildings and characterful streets. A visit is highly recommended!
Note that you can click on any old picture to see a larger version
Hereford Stn Exterior






September 1963

August 2009

The arrival point for my visit, as well as those of my father, was this splendid station building. As far as I can discover, the station opened in 1853 and served the Shrewsbury & Hereford and the Newport, Hereford & Abergavenny Railways.

There are more pictures of the station on this page.

Hereford Market






March 1965

August 2009

I knew I had seen a picture of the market in the collection but couldn't find it before my trip. As it turns out, I managed to find the spot where my father had stood for his picture without too much difficulty and these two pictures help back up my view that Hereford has made it into the 21st century without being spoilt by redevelopment.

Inside the entrace I found a sign that indicated that the Butter Market (to give it its proper name) had originally opened in October 1860. The interior has suffered some modernisation but it still has a feel of a nice market. My wife and I enjoyed superb freshly made sandwiches from a stall not too far from the entrance - yum!

All Saints Church, Hereford






October 1964

August 2009

I wondered how I had not noticed that All Saints Church had a twisted spire when I was taking pictures of it! You can clearly see the twist on my father's picture. Well, this history of the church explains that the spire was straightened during a restoration project in the 1990's.

Wye Bridge, Hereford






October 1964

August 2009

Now, this picture I did manage to find before my trip as you can no doubt tell. Again, this pair show a largely unchanged city. In fact, I suspect a view from 1859, 150 years before I took mine, would look very similar!

Out of view to the right, however, is the Left Bank development. Thankfully, Hereford has escaped the overdevelopment of the riverside that many other cities saw during the property boom of the early noughties.

---