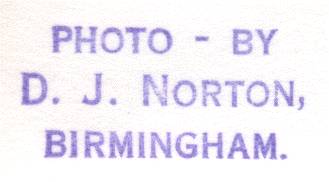 Romney, Hythe and Dymchurch Railway

The Romney, Hythe and Dymchurch Railway has a fascinating history. What I like most about it is that it was built as, and remains to this day, a working railway, not a tourist attraction. It was opened in 1927 and the
Wikipedia page
gives a good background on the development of the railway. Of course, being still in operation, there is also an
official website
that is a great source of further information.
Green Goddess, Hythe - 13/5/56

Starting at the northern most station on the line, this picture of Green Goddess shows a loco that was built in 1925 and is still running today. Here is a lovely picture from 2003. The chap to the right of the picture is not a giant! This is a miniature railway running on 15" gauge rails.

New Romney Stn - 13/5/56

This was New Romney Station back in 1956. Today the site is much expanded and modified from this quiet scene. This view is looking north-east towards Hythe. I believe the houses to the left are located in Langport Road.

New Romney Stn from Footbridge - 13/5/56

Having walked under the station canopy and climbed the footbridge (just visible in the picture above), this view provides plenty of interest. There is the shelter and rolling stock on the left and the shed, signal box and water tower on the right. Lovely.

New Romney Shed - 13/5/56

Here is a clearer view of the shed seen to the right of centre in the picture above. I believe that the shed and the buildings to the right of it are still standing today. Can anyone confirm?

Gantry nr Hythe - 13/5/56

Having returned to Hythe, my father strolled along the track to take this picture of a signal gantry to the south of Hythe station. You can see the station in the background.

---