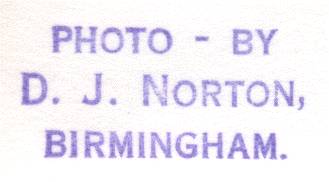 Dunhampstead Station (Goods)

Dunhampstead (Goods) lay on the Midland line between Bromsgrove and Aschurch south of
Droitwich Road
. There is still a level crossing on the site today for Trench Lane to cross the line.
Dunhampstead Crossing - 12/4/55

The upper shot is looking south while the lower shot, featuring 'Black Five' 44745, is looking north. A site visit in May 2008 allowed me to take this picture showing a similar view to the upper shot. All the buildings have gone and the scene is of far less interest today.

Oddingley Crossing - 12/4/55

Oddingley Crossing was about 3/4 of a mile south of Dunhampstead and there is still a crossing there today for Netherwood Lane. This view is facing south. I'm not sure what my father's friends are doing taking photo's while lying on the tracks!

What is exciting is that the Google Maps Satellite view of the area suggests that the box survives! This picture from May 2005 suggests that this is indeed the case. A site visit is very much anticipated...

---