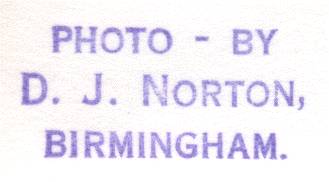 Redditch Station

Redditch lies on the old Midland line south of
Alvechurch
. Prior to the closure of the tunnel, seen
below
, the line continued on as part of the Birmingham and Gloucester Loop with the next stop to the south being
Studley and Astwood Bank
. The station (slightly relocated to the north) is still in use today as part of the Cross City Line. For some reason my father never took a picture of the station itself but I hope the views below help compensate for that oversight...
Redditch Shed - 22/4/51

The shed was located to the north of the station and this view is looking north. The signal box is Redditch North.

42327 Redditch Shed - 22/4/51

A close up view of the small engine shed, a subshed of Bournville. The loco is class 4MT 2-6-4T 'Fowler' 42327.

44859 Redditch South - 12/7/55

Class 5MT 4-6-0 'Black Five' 44859 passing Redditch South box. This was located (not surprisingly!) at the southern end of the station. The signalman is waiting to collect the token used to ensure safety on the single line track.

View from Redditch South Box - 12/7/55

The single bore tunnel to the south of the station opened in May 1868. Today, the only reminder of its existance is Tunnel Drive.

There are more pictures of the tunnel on the website of Philip Jarvis, author of 'Steam on the Birmingham Gloucester Loop'.

---