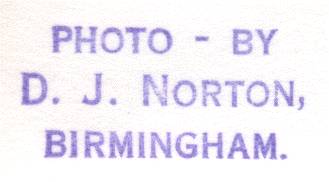 Big Bertha and the Lickey Incline

Living within a couple of miles of the Lickey Incline means that I'm well aware of the continued interest in this section of the rail network. Also, the fame of 'Big Bertha' seems to grow rather than diminish as the years go by. In 2006, Bertha was the logo of the
Bromsgrove Beer Festival
and also appeared on the cover of the Bromsgrove Rousler (Issue 21 - see
here
for cover picture), a magazine published by the
Bromsgrove Society
.
The facts about the Lickey Incline and 'Big Bertha' are undoubtably the reason for all the interest. The steepest mainline incline on the network at 1 in 37 for just over 2 miles. A unique loco produced especially for the job of banking at Lickey which went on to cover 838,856 miles over 36 years only to face a sad demise at the scrap yard in 1956...
There is an interesting history of the line on
LickeyIncline.co.uk
and, for those interested in visiting the line today, there is some useful advice (dreadfully formatted though!) on
The Famous Lickey Incline
site.
When I first looked through the prints with Andy of
Rail Around Birmingham
, only one picture of 'Big Bertha' appeared. However, after a year of developing the railway section of this site I was able to recognise her via her final BR designation, 58100, in a series of contact prints. These are not of the quality you'll see elsewhere, but they are cracking pictures nonetheless!
22290 21C Bromsgrove South - 10/10/48

This was the only full size print and shows 'Big Bertha' with her LMS number, 22290. As a Midland loco she was 2290. Her 0-10-0 configuration can clearly be seen.

I did wonder if the building in the background was the Bromsgrove Carriage & Wagon Works but both Mike and Robin got in touch to say that it was Garringtons factory. Robin further explained that, "The wagon works were the other side of the line, behind the down platform and the engine shed". You can see this on the Bromsgrove Station pictures,

58100 Saltley Loco - 29/1/49

'Big Bertha' was given her BR number of 58100 in January 1949 so I originally suspected that the renumbering had happened during this visit to Saltley. However, Richard explained:
"Only in

very

extreme cases were locos renumbered at sheds. 58100 became that during a visit to Derby Works in 1949 for a Casual Repair. It was due in shops 5/1/49. I suggest the shot at Saltley was taken when 58100 was en route back to Bromsgrove."

I've no idea who the Bertha groupies are!

58100 21C Bromsgrove Stn - 10/3/49

58100 21C Bromsgrove Stn - 15/5/49

This super shot clearly shows the Walschaerts valve gear and the famous headlight. The headlight was fitted to Bertha's successor, 92079, when she was scrapped.

58100 21C Bromsgrove Incline - 24/7/49

'Big Bertha' performing her duty in life - banking a goods train up the Lickey Incline.

7301 21C, 58100 21C Bromsgrove Incline - 24/7/49

For this passenger train Bertha has some assistance from 'Jinty' class 0-6-0T 7301.

---