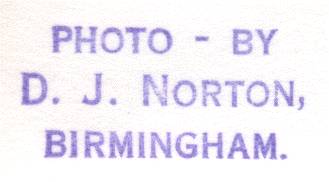 Birmingham and Local Stations A-G
Covers
Adderley Park
,
Aston
,
Blake Street
,
Bournville
,
Camp Hill
,
Church Road
,
Dudley
,
Five Ways
,
Four Oaks
and
Gravelly Hill
Move cursor over pictures for more information
Adderley Park

There's still a working station at Adderley Park. The road bridge seen on all the pictures carries Bordesley Green Road.

Aston

My father wasn't afraid to go where he shouldn't be! The first of these pictures was taken from the signal box that can just be seen on the photo above.

Blake Street

Blake Street is the most northerly station on the Cross City Line that is still in the West Midlands.

Bournville

This cracking picture is taken looking north towards the station. The road bridge carries Mary Vale Road. Today, Bournville station is painted purple due to its proximity to Cadbury's!

Check out the colour pictures of this station.

Camp Hill

Even in 1954, when this picture was taken, Camp Hill station had been long abandoned. It used to be on Highgate Road near the junction with Woodfield Road.

Look what is discarded in the oil drum - a Camp Hill sign. How much would that be worth today?

Church Road

When I first put this page together I had no idea where Church Road Station had been and with so many Church Roads in the city it wasn't easy to work it out! I later found that it had been on the Birmingham West Suburban Railway. The site of the station is between Five Ways and University station on what is today known as the Cross City Line. It closed to passengers on 1st January 1925.

The top two shots were taken from the signal pole seen in the bottom shot. The first picture is looking south west towards the station and the platforms are still in situ almost 30 years after closure. The second picture is looking the opposite way towards Church Road Junction where the line to Central Goods started. The tall signal box was known as Church Road Junction.

The bottom picture shows Class 5MT 4-6-0 'Black Five' 45058 from Millhouses shed steaming towards New Street.

Dudley

Dudley Station used to be very close to Dudley Zoo and Castle. Station Drive off Castle Hill is all that's left to remind us.

Five Ways

Five Ways was clearly not a working station at this time - the lack of flagstones near the platform edges would be far too dangerous. Now it is part of the Cross City Line.

Thanks to Bob for pointing out that Jubilee 45577 "Bengal" is wrong-side working. The picture was taken on a Sunday so it looks like some engineering work was going on.

Four Oaks

Four Oaks is still a busy station being part of the Cross City Line.

Gravelly Hill

I'm always depressed to see such nice old buildings knowing they were all swept away but one of them does survive here as this modern view shows. Modern day Gravelly Hill is another of the Cross City Line stations.

---